We are thrilled to feature the three finalists in this 2023 ILANZ MAS award category to ask them about their in-house journey and the best advice they have received along the way.
We thank these lawyers for generously sharing their insights with the community and helping us to reflect on how we can support those new to in-house. Kei runga noa atu koutou! The future is bright!
We look forward to celebrating all the passion and hard work with the in-house community at the ILANZ Conference 2023 in Tauranga in July. 
---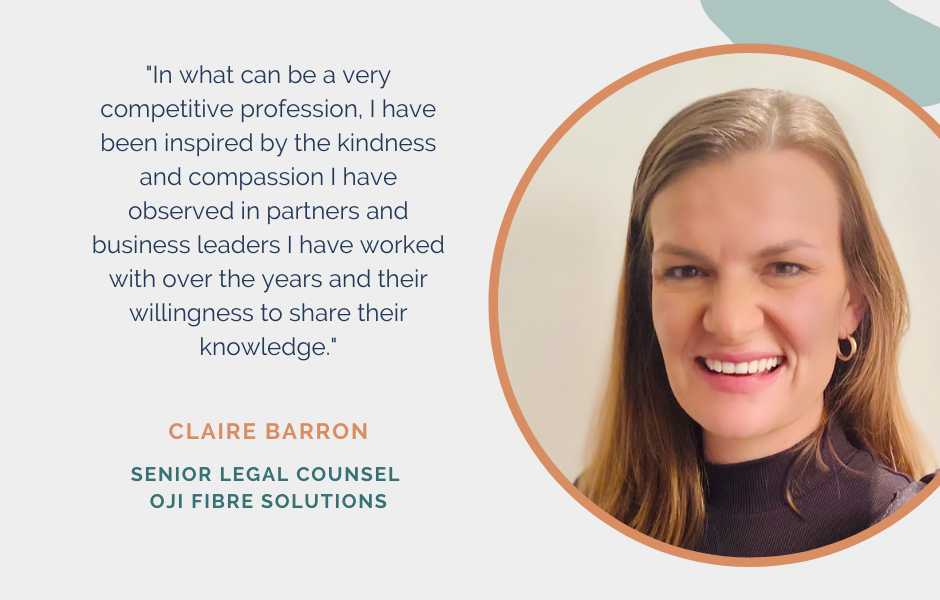 Claire Barron, Senior Legal Counsel |  Oji Fibre Solutions
Can you tell us about your role and what you are enjoying about it?
I work as part of a small in-house legal team at Oji Fibre Solutions, which is one of Australasia's leading manufacturers of pulp, paper and wood-fibre based packaging solutions. I support all of our business units on a range of matters including; procurement, commercial negotiations, contract management, acquisitions, and general legal advice. Recent highlights include the legal work behind the completion of our new Christchurch facility, and a business acquisition in Australia. The role provides me with variety, interest, challenge, and the opportunity to test the status quo to find opportunities for improvement. I especially enjoy and appreciate the people I work with; their values, their capabilities, the diversity of ideas, and the occasional morning tea!    
What drew you to in-house legal practice?
I wanted to get a broader perspective of a commercial business environment; the culture and people, the strategic context, the decision-making process, the dynamics of change, the everyday challenges, and to become a trusted partner within the business. There was also appeal in Oji Fibre Solutions' story - I was excited at the opportunity to contribute to and be part of a sustainable and circular economy and to work for an organisation whose values I share.  
What is the most helpful advice you have received in your legal career and how has it been helpful?
A simple piece of advice that I received early on in my career and which I recall frequently is "Never assume". Assumptions lead to misunderstandings. Do not be afraid to ask for clarification.
What have you seen in the profession that you have been inspired by?
In what can be a very competitive profession, I have been inspired by the kindness and compassion I have observed in partners and business leaders I have worked with over the years and their willingness to share their knowledge. To me, these characteristics epitomise strong and competent leaders.  
---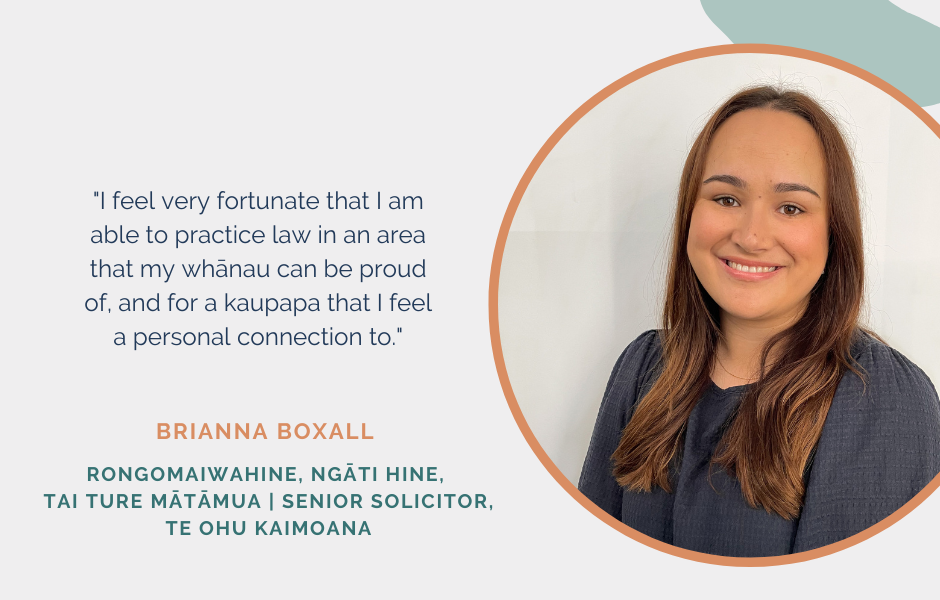 Brianna Boxall Rongomaiwahine, Ngāti Hine, Tai Ture Mātāmua | Senior Solicitor, Te Ohu Kaimoana
Can you tell us about your role and what you are enjoying about it?
I am a member of the in-house legal team for Te Ohu Kaimoana, a Māori Trust established under the Māori Fisheries Act 2004. Our purpose is to advocate on behalf of Iwi and Māori in the oceans environment, and to advance Māori fishing rights that are protected by the Fisheries Settlement and the Treaty of Waitangi. My role is to not only provide legal support to my Trust and Board, but also to the 58 mandated iwi organisations who represent iwi throughout Aotearoa. I love that everything I do - whether it be assisting iwi with their legal rights to pursue customary fishing, participating in intensive government legislative programmes which require input and submissions, providing governance advice, or simply being a member of my work whānau, it's all done with a Māori lens and with our Māori values at the heart.
Has your career developed differently from what you imagined it to be?
I come from a beautiful small peninsula on the east coast called Māhia. My nana is one of thirteen, my mum is one of six, and I'm the first lawyer in my whānau. I went to law school not knowing what to expect but simply hoping that I would land somewhere with work that I would feel a real connection to. So fast forward to now, working for Te Ohu Kaimoana. It feels like this was always part of my whakapapa.
My whānau takes kaimoana very seriously. But you need to when you are kaitiaki of a beautiful coastline like ours. So I feel very fortunate that I am able to practice law in an area that my whānau can be proud of and for a kaupapa that I feel a personal connection to.
What have you seen in the profession that you have been inspired by?
I'm inspired by lawyers who have a commitment to the law through a Māori worldview. I'm fortunate that so early into my career I've been able to learn from senior lawyers who have crafted the delicate skill of walking in two worlds – our state legal system and Tikanga Māori.
---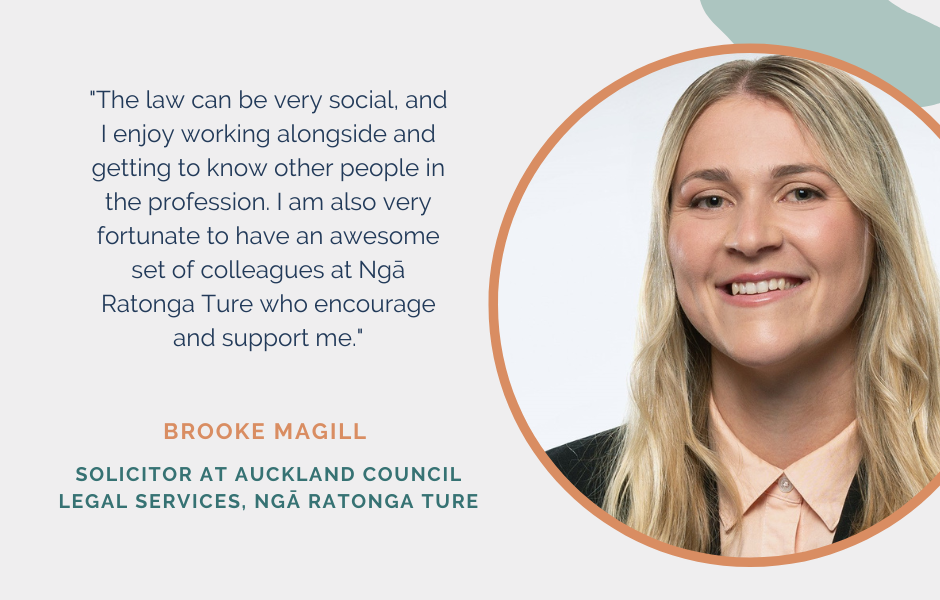 Can you tell us about your role and what you are enjoying about it?
I am one of the in-house Prosecutors in te whai tikanga me te ūruhi (Regulatory & Prosecutions) at Auckland Council Legal Services, Ngā Ratonga Ture. My role involves conducting prosecutions on behalf of Auckland Council in the regulatory criminal space such as under the Resource Management Act 1991, Building Act 2004, Dog Control Act 1996, Food Act 2014 and other local government legislation. I also provide legal advice and assist with training related to the Solicitor-General Guidelines which govern prosecutions as well as enforcement processes more broadly. Luckily for me, one of the biggest aspects of my role, which I really enjoy, is appearing in court at all stages of the criminal process. The law can be very social, and I enjoy working alongside and getting to know other people in the profession. I am also very fortunate to have an awesome set of colleagues at Ngā Ratonga Ture who encourage and support me.
Has your career developed differently from what you imagined it would be when you began? What drew you to in-house legal practice? 
I started my legal career at a general litigation law firm in Whangārei, which is where I am originally from. That was where I first came across the term "in-house" legal practice when I helped with a few files for the local council. In-house legal practice was not something that was on my radar while I was studying at university. Looking back that might be because I didn't really know it existed. The flexibility and independence drew me into working in-house – I have got to work on some really cool projects during my time so far at Auckland Council which I may not have been exposed to in private practice, such as the Adult Diversion Policy that Auckland Council implemented at the beginning of this year.
What is the most helpful advice you've received in your legal career, and how was it been helpful?
One of the more helpful pieces of advice I have been given is to be patient. A lot of new lawyers can be hard on themselves and set really high expectations. While it is always good to have goals to work toward it is equally as important to realise that there is no substitute for time and experience – especially in the legal profession!
---